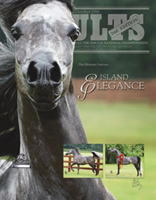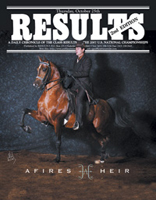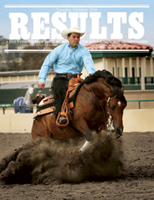 RESULTS was created in the Fall of 1988 as a completely unique approach to providing the horse show exhibitor and spectator with information about the show results and the judges' selections, in a quick, easy-to-read, readily available format. Its popularity was immediate and has grown extensively over the last two decades.
During that time RESULTS has become the most viable, point-of-purchase form of advertising available at horse shows. From full color display advertising, to small business card and banner ads, RESULTS provides a versatile, cost effective venue for horse breeders, exhibitors, buyers and sellers, and all of the many equine product merchants seeking to reach this multi-million dollar market.
RESULTS is a daily publication at the Scottsdale Show, the Egyptian Event, the Youth National Championships, the Canadian National Championships, and the U.S. National Championship Show. Thousands of people receive or pickup the RESULTS daily at the horse shows, and hundreds more obtain them via subscription, complimentary mailings and pass-along readership.
In addition, ad design and complete, customized printing services are available through RESULTS in-house designers and creative staff. With an accumulated seventy plus years of experience in the equine and printing industries, we can help you develop and implement the perfect strategy to enable you to achieve your goals in the equine marketplace.
DEADLINES
There is no absolute ordering deadline in RESULTS as ads can be ordered at the show for publication in the following day's issue. However, space in the RESULTS is finite and certain covers, insert spaces and banner spaces are frequently ordered six months in advance. Space is sold on a first come, first served basis. Deadline for ad copy and pictures is usually two to three weeks prior to the show. Deadlines differ based on the complexity of the ad and show. Please inquire.

SPECIAL ADVERTISING
RESULTS offers several options for advertisers seeking unique forms of marketing for horses, farms and products.


CENTERFOLDS
There are 11" x 17" centerfold options in select issues of the RESULTS at the larger National shows. These poster-sized advertisements are $2500.00 per issue and are sold with "overs" for use as handouts, giveaways or for use as posters.

SECTIONS
Groups of color page advertising can be purchased on select days in sets of four or eight pages. These can also be overrun for use as a brochure or handout. These sections cost $1000.00 per page and are only offered at the major National shows.

EDITORIAL
Single and double page editorials, written by the RESULTS staff and including up to six color photographs are a feature in RESULTS at all shows. The stories are run on select days and up to four or five story spaces are available at each show. Single page stories are $1000.00. Double page stories are $1750.00.


LAYOUT
There is no additional charge for the layout and typesetting of advertisements. Proofs are available on request. Ads created for RESULTS can be resized, reworked and sent to other publications for a modest fee.
PHOTOGRAPHY
Photography can be submitted in a variety of ways, including prints up to and including 8" by 10" or as a 300 dpi digital file at reproduction size.
SUBMITTED CAMERA READY
Almost all software and platforms are acceptable, except for Microsoft Word and Microsoft Publisher. Please inquire before sending files.
Full Color Front and Back Covers are $1500.00 to $1250.00 (Scottsdale, Canada, U.S. and Egyptian Event) and $1000.00 to $795.00 (Canada and Youth Nationals). Color pages attached inside the RESULTS are priced from $750.00 to $1000.00 based on placement (Scottsdale and U.S. Nationals).

Business Card Spaces are $60.00 per space; per issue.
Multiple Business Cards are based on the above rate.

Half-Banner Spaces are $180.00 per space; per issue.
Full Banner Spaces are $360.00 per space; per issue.

Top Banners are $100.00 per space; per issue.
Side Banners are $75.00 per space; per issue.

Flyer inserts in RESULTS are $400.00 plus printing.

One color, single-sided flyers are $750.00 to $850.00. Full color, single-sided flyers are $1400.00.
Full color two-sided flyers are $1995.00.
Full color front and one ink color on back flyers are $1695.00.
(the 4 prices listed immediately above all include the quantity necessary, the cost of insertion in RESULTS and #500 "overs").

Click here to view print advertising information in PDF format